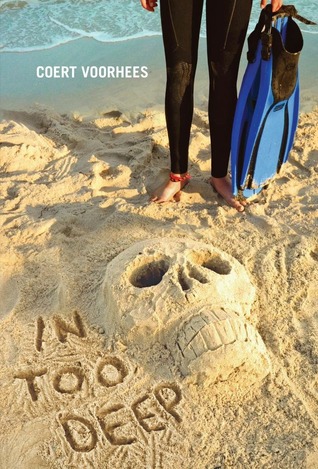 Title: In too deep
Author: Coert Voorhees
Publication Date: July 9th, 2013
Publisher: Disney Hyperion
Source: Netgalley
Format: e-book
Pages: 336
Genre: Young adult, Adventure, Mystery, Contemporary
Reading Challenge: Popsugar Reading Challenge
This e-book was kindly given to me by the Publisher on netgalley.
Summary of in too deep: Annie Fleet is a slightly nerdy high school girl with a history teacher dad and a scuba dive shop owner as a mum that loves diving. She is a lot into shipwrecks and knows all about the stories of sunken treasures. One summer she gets the chance to go on a humanitarian school trip to Mexico with her teacher who is equally into treasure hunting than Annie. While there, they suddenly get the chance to go looking for Cortez's long-lost treasure…
My thoughts on in too deep: If you like Disney Adventure movies… Those that the Rock often stars in, then this might be the perfect fit for you. If you love the sea and have an interest in diving, this might be the perfect fit for you. If you love treasure hunting, then…you guessed it, this might be the perfect fit for you.

So the thing is, I planned to read this for a summer reading challenge, which did not happen and I instead read it now in November. It is kind of weird to read about an adventure on the beach in the summer when it is cold outside but for some reason, it was also kinda nice. Warmed me up a little bit.
I was annoyed at a few of the main character's decisions but those were minor and overall I really enjoyed reading this e-book. There were also a few twists in it I did not see coming.
Overall in too deep is a fun summer read.
Rating: 4 Stars